Cocktails Menu
WELCOME
We are proud to present our Cocktail Menu Vol.3.
Following the success and great feedback of our previous menus we have had the joy in writing our third edition of the Turpins Cocktail Menu.
With there being many a story and tale about the infamous Highwayman, the first section of our menu takes you on a journey through the life and death of the notorious Dick Turpin in our own account, creating a cocktail for each key stage of his mysterious timeline. We hope you enjoy reading through our tale of Turpin and more to the point enjoy the drinks we have created to represent that specific point in his life.
As always we are positive there is something in this menu for you, however we are more than happy to help you create the perfect cocktail for you as long as it doesn't have a 'woo' or 'beach' in the name. We hope you enjoy the latest edition to our cocktail menus, and more importantly, enjoy yourselves!
The Turpins' Team
CONTENTS
*Please note some of these cocktails contain egg white
A Tale of Dick Turpin
A Butchers Apprentice

£10.95

Richard 'Dick' Turpin began his life as an Apprentice Butcher working for his father John Turpin.

House-infused Hudson Four Grain Bourbon with bacon blended with Maple syrup and Angostura Bitters.
Stirred and served in a Crystal Cut Glass. Bacon garnish.

The Essex Gang

£5.95

In 1730's Turpin became involved with a group of deer thieves known as the Essex Gang where his troubles began.

Stoli Citros Vodka, Licor 43 and vanilla syrup shaken with lemon juice, fresh passion fruit and egg white.
Served in a coupe. Passion fruit garnish.

Your Money Or Your Life

£6.45

Turpin then headed to Epping Forrest where he met Captain Tom King, the most known highwaymen of the time; who would later turn Turpin into his infamous character:

Hendricks Gin, elderflower liqueur, apple juice, lemon juice and a hand full of fresh mint.
Shaken, served in a coupe. Mint sprig with a baby peg garnish.

A Gamekeepers Death

£6.25

During his time in Epping Forrest, Turpin and King took shelter off track where they could hold up anyone who passed. On 4th May 1737 a gamekeeper by the name of Thomas Morris challenged Turpin to which Turpin drew his gun and shot him dead.

Monkey Shoulder, Pago cloudy apple juice, maple syrup and lemon juice.
Served in a highball. Dehydrated apple garnish.
Black Bess

£6.95

After killing the gamekeeper his partner in crime, Tom King, alerted the local constable of Turpin's doings. Turpin fled and left for Yorkshire in which he rode his horse, Black Bess, through the night and arrived within 24 hours to account for his alibi.

Kraken Spiced Rum, fresh lime and Angostura Bitters shaken and floated on top of ginger beer.
Served in a Jam Jar. Dehydrated lime garnish.

Tales of John Palmer

£6.45

Still committing robbery and living an extravagant lifestyle, Turpin, using the alias John Palmer, made locals suspicious. After shooting his landlords Rooster he ended up in custody. 'Palmer' wrote a letter to his brother which, bypassing the post office was seen by Turpin's former schoolmaster who recognized the hand writing to be that of Dick Turpin!

Pampero Anivarsario Rum, caramel syrup, apple juice, a hint of fresh orange and a squeeze of lime.
Shaken served over ice in a rocks glass. Orange wedge garnish.

One Last Chat

£10.95

Turpin was sentenced to death by hanging on 7th April 1739. He bought himself new clothes and shoes, paraded through the streets of York and eventually casually chatted to the executioner sharing stories with an 'undaunted courage looked about him' after which he courageously threw himself off the ladder.

This drink serves two: Tincup Whiskey, Port, Tia Maria, caramel syrup.
Served in a chilled hip flask with two Tincup dram cups.
I don't have a drinking problem 'cept when I can't get a drink. ~

Tom Waits
Rum
Mojito

£5.95

Pampero Especial Rum, mint, lime and sugar topped with Soda Water

Mojito Royale

£9.95

Pyrat XO Rum, mint, lime and sugar topped with Prosecco

Daiquiri

£5.95

Pampero Blanco Rum, lime, sugar *Strawberry, Passion fruit or Lime

Pina Colada

£6.95

Sailor Jerry Rum, Koko Kanu, pineapple, orange, half & half, coconut cream & almond syrup

Flaming Zombie

£7.95

Pampero Especial Rum, Pampero Blanco Rum, Sailor Jerry Rum & Goslings 151, pineapple, lime & almond syrup

Old Hoti

£9.25

Pyrat XO Rum, lime, mint, ginger syrup and bitters topped with Piper Heidsieck Champagne
Drinking rum before 10am makes you a pirate not an alcoholic. ~

Mikey Smith
Gin
Gin Mojito

£6.95

Hendricks Gin, cucumber, mint, lime and sugar topped with Tonic Water

Bramble

£6.25

Hendricks Gin, Lemon Juice, sugar syrup topped with Crème De Mure

Tom Collins

£6.95

Hayman's Old Tom Gin, lemon, sugar syrup

Slow Gin Sours

£5.95

Hayman's Sloe Gin, lemon juice, sugar syrup and bitters

Aviation

£7.45

Aviation Gin, Maraschino, Crème De Violet & lemon juice

Splash & Dash

£5.95

Haymans Sloe Gin, cloudy apple juice, lemon juice and sugar syrup shaken with raspberries and lime

Singapore Sling

£7.95

Haymans London Dry Gin, Cherry Brandy, Benedictine, grenadine with lemon juice and sugar syrup topped up with soda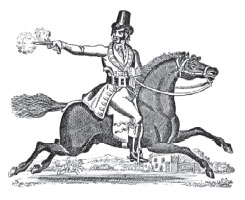 Vodka
Cosmo

£5.95

Stoli Citros Vodka, Cointreau, cranberry juice & lime *Apricot, Black Cherry or Orange

Espresso Martini

£6.75

Salted Caramel Stoli Vodka, Tia Maria, espresso & sugar syrup. Or Courvoisier Brandy, Patron XO, espresso & vanilla syrup

A Man-goes Into a Bar

£6 .95

Stoli Citros, St Germain Elderflower Liqueur, mango sorbet, egg white, cream, lemon juice and sugar
Whiskey
$5 Shake

£5.95

Wild Turkey, Disaronno and salted caramel shaken with vanilla ice cream.
Served with toffee popcorn

Hudson Nights

£9.25

Hudson Baby, American Honey, barrel matured maple syrup, apple juice, black cherry and raspberries
Champagne
Kir Royal

£9.95

Chambord Black Raspberry Liqueur topped with Piper Heidsieck Champagne

Champagne Cocktail

£9.95

Courvoisier Brandy, Angostura Bitters, sugar cube topped with Piper Heidsieck Champagne

Bellini

£7.95

Pago fruit juice topped with Prosecco *Peach or Strawberry

Aperol Spritz

£6.45

Aperol, Prosecco, soda & Orange

Zubrowka Spritz

£6.95

Zubrowka Bison Grass Vodka, St Germain Elderflower liqueur, Prosecco, mint and lime
Tequila
Cointreauversy

£6.95

Cointreau, 1800 Tequila, lime, brown sugar and orange jam

Tommy's Margarita

£6.95

Aqua Riva Tequila, Agave Syrup & lime

Paloma

£6.95

Aqua Riva Tequila, grapefruit, lime, sugar and soda
Boozy
Old Fashioned

£8.95

Wild Turkey 101, sugar, Angostura bitters
Served over a block of ice

Hazelnut Manhattan

£10.95

Hudson Rye, Frangelico hazelnut liqueur, hazelnut syrup, Antica Formula Vermouth

One in the Chamber

£9.95

Courvoisier VSOP, Grand Marnier, Maraschino & hot water

Negroni

£7.75

Haymans London Dry Gin, Campari & Antica Formula
Served over a block of ice

Martini

£8.95

Hendricks Gin or Stoli Vodka. Wet or Dry? With dry vermouth stirred down to perfection

Godfather

£7.95

Monkey Shoulder Whisky & Disaronno
Served over an ice ball
*Please be advised these are all stirred down spirit-based cocktails and are not served with mixers of any kind
Miscellaneous
Disaronno Sour

£5.95

Disaronno, lemon juice, sugar syrup and Angostura Bitters

Pisco Sour

£6.45

Pisco, lemon juice, sugar syrup and Peychaud's Bitters

Caipirinha

£6.45

Abelha Cachaca, lime and sugar

Bloody Mary

£7.95

In-house Chilli infused Vodka, tomato juice .... and the rest is a Turpins secret recipe!

Fruit Beer Sharer

£11.95

Lieffmann's fruit beers, Stoli razberi vodka, apricot liqueur, lime and raspberries. Serves two in jam jars
If you drink, don't drive. Don't even putt. ~

Dean Martin
Mocktails
Non Alcoholic Mojita

£3.95

Apple juice with fresh mint, lime and sugar
Served in a sling glass topped with soda

Strawberry Mojito

£3.95

Muddled strawberries and lime with sugar, apple juice and fresh mint. Poured into a sling glass and topped with soda with a mint sprig garnish

Strawberry Milkshake

£3.95

Muddled strawberries and lime with vanilla syrup and half and half
Served in a jam jar

Elderflower Spritz

£3.95

Apple juice shaken with elderflower cordial, lime and fresh mint
Served in a coupe glass with a mint sprig garnish

Ginger Fizz

£3.95

Old Jamaica Ginger Beer, pineapple juice, lime and almond syrup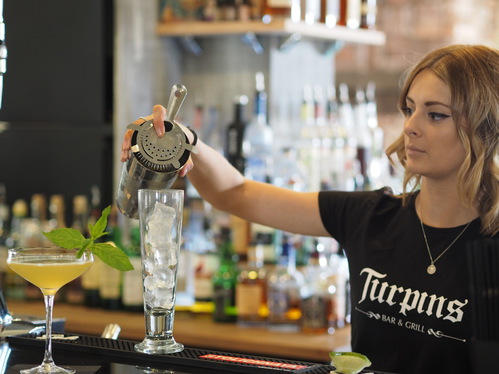 To me "drink responsibly" means not spilling any. ~

Eleanor Holcroft