Drinks Menu
We have worked hard to craft a drinks menu that encapsulates what we and our customers are about. We have expanded our core offering, and sourced rarer, more top-shelf offerings, so that we can offer to provide drinks more personal to your tastes. We have endeavored to find suppliers that can offer us these more exclusive spirits, and we have only teamed up with suppliers that can offer benefits to our customers too. As part of these new deals, we will be able to offer to you: spirit-tasting events, including gins, whiskies, and wines. We want to welcome as many guests as possible, so please speak to us to register your interest.
You will now find the Macallan whisky range in our whisky section – a truly exceptional whisky. For the adventurous we offer the full range in a tasting board or cheeseboard, so you can fully experience this truly outstanding whisky range. With Japanese whisky surging in popularity recently we have now offer you two, Chita and Toki. We have expanded our top-shelf vodka offerings with Belvedere and Haku: two vodkas that most agree offer a taste equal to that of Grey Goose (and exceed it in our opinion). We now offer a top-shelf spiced rum in J Gow, the Patrón tequila range, and array of beers from all over the world. We also have a rotating guest line with-in our draught beers, so we can offer an even larger variety of beers to you!
We welcome you to ask us for drinks recommendations and encourage you to try all these unfrequented spirits.
Gin
Monkey 47 47.0%

£4.50

Garnish: Ginger, Blueberry & Plum
Best paired with: London Essence Indian
Gin Mare 42.7%

£3.80

Garnish: Grapefruit & Rosemary
Best paired with: London Essence Grapefruit
Caorunn 41.8%

£3.70

Garnish: Apple & Lemon
Best paired with: London Essence Rhubarb
Botanist 47.0%

£3.70

Garnish: Lime & Pink Peppercorn
Best paired with: London Essence Rhubarb
Hendrick's 41.4%

£3.60

Garnish: Cucumber
Best paired with: London Essence Cucumber
Brockmans 40.0%

£3.20

Garnish: Ginger, Blueberry & Plum
Best paired with: London Essence Ginger Ale
Bombay Sapphire 40.0%

£3.20

Garnish: Lime & Juniper
Best paired with: London Essence Indian
Malfy 41.0%

£3.20

Garnish: Apple & Lemon
Best paired with: London Essence Grapefruit & Rosemary
Burleighs 47.0%

£3.20

Garnish: Lime & Pink Peppercorn
Best paired with: London Essence Blood Orange & Elderflowe
Roku 43.0%

£3.20

Garnish: Cucumber
Best paired with: London Essence Pomelo & Pink Peppercorn
Flavoured Gin
Gin Lane 1751 Victoria Pink 40.0%

£3.50

Garnish: Strawberry
Best paired with: London Essence Pomelo & Pink Peppercorn
Tarquins Blood Orange 38.0%

£3.70

Garnish: Orange & Lime
Best paired with: London Essence Blood Orange & Elderflower
Warner's Raspberry 40.0%

£3.80

Garnish: Lemon & Raspberry
Best paired with: London Essence Elderflower
Wessex Sloe 23.0%

£3.50

Garnish: Blueberry & Juniper
Best paired with: London Essence Ginger Ale
Edinburgh Rhubarb & Ginger 40.0%

£3.50

Garnish: Grapefruit & Ginger
Best paired with: London Essence Rhubarb
Mermaid Pink Gin 38.0%

£3.80

Garnish: Strawberry & Raspberry
Best paired with: London Essence Grapefruit & Rosemary
Tonic
London Essence, Tap

£2.40

Indian / Grapefruit / Elderflower / Rhubarb

Fever Tree, Bottle

£2.40

Indian / Ginger Ale / Ginger Beer / Slimline / Mediterranean
Vodka
Grey Goose 40%

£4.40

Belvedere 40%

£3.80

Haku 40%

£3.70

Belvedere Citron40%

£3.50

Absolut 40%

£3.20

Zubrowka 37.5%

£3.20

Absolut Passionfruit 40%

£3.20

Stolichnaya Razberi 37.5%

£3.30
Rum
Brugal 1888 40.0%

Golden Rum

£4.10

Dark Matter 40.0%

Dark Rum

£3.50

Goslings 151 75.5%

Dark, Overproof Rum

£4.00

J Gow 40.0%

Spiced Rum

£3.50

Wray & Nephew 63.0%

Light, Overproof Rum

£3.00

Brugal Anejo 38.0%

Golden Rum

£2.80

Brugal Blanco 40.0%

White Rum

£2.90

Bacardi 37.5%

White Rum

£2.90

Sailor Jerry 40.0%

Spiced Rum

£2.80

Kraken 40.0%

Spiced Rum

£2.90
Brandy
Hennessey XO 40.0%

£16.00

Courvosier VSOP 40.0%

£4.50

Courvosier VS 40.0%

£3.30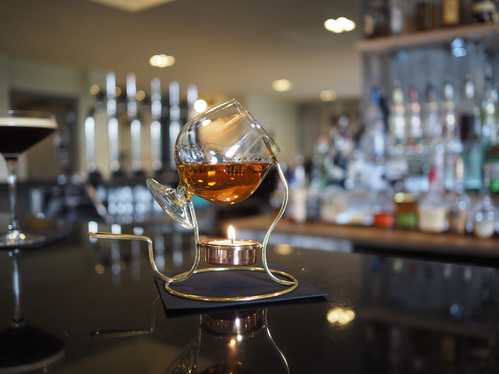 Whisky
Macallan 18-year Double Cask 43.0%

£25.00

Macallan 15-year Double Cask 43.0%

£13.00

Macallan 12-year Double Cask 40.0%

£7.00

Chita 43.0%

£5.70

Laphroaig 40.0%

£4.90

Toki 40.0%

£3.60

Makers Mark 40.0%

£3.40

Jameson 40.0%

£3.20

Naked Malt 40.0%

£3.30

Highland Park 40.0%

£3.60
Whisky Sharing Boards
Macallan Taste

£44.00

Macallan 12-year, Macallan 15-year & Macallan 18-year

Japanese Taster

£9.50

Chita & Tok

Scottish Taster

£12.00

Highland Park, Naked Malt & Laphroaig
Whisky Cheese Boards
Macallan Cheese Board

£42.00

Macallan Taster with 3 cheeses to complement each whisky

Japanese Cheese Board

£13.00

Japanese Taster with 2 cheeses to complement each whisky

Scottish Cheese Board

£18.00

Scottish Taster with 3 cheeses to complement each whisky
Tequila
Patrón XO Anejo 40.0%

£5.70

Patrón XO Silver 40.0%

£5.40

Patrón XO Reposado 40.0%

£5.50

Olmeccaa Reposado 40.0%

£3.40

Olmecca Blanco 40.0%

£3.20
Port & Vermouths
Martini 50ml 15.0%

£3.00

Bianco / Extra Dry / Rosso

Taylors First Estate 50ml 20.0%

£3.80
Draught Beers & Ciders
Madri 4.6%

£5.50

Blue Moon 5.4%

£5.00

Coors 4.0%

£4.50

Timothy Taylor's Landlord 4.3%

£4.50

Doom Bar 4.0%

£4.50

Guiness 4.3%

£4.50

Aspall Cyder 4.5%

£4.50

Staropramen 5.0%

£5.00

Birra Moretti 5.1%

£6.00

Estrella 4.6%

£5.00
Bottled Beers & Cider
Rekorderlig 4.5% / 4.0%

500ml

£5.00

Pear / Strawberry & Lime, Wild Berry

Leffe 6.6%

330ml

£4.30

Punk IPA 5.4%

330ml

£4.40

Peroni Red 4.7%

330ml

£3.70

Corona 4.5%

330ml

£3.80

Budweiser 4.5%

330ml

£3.80

Erdinger 5.3%

500ml

£3.80

Crabbies 4.0%

500ml

£5.00
Liquers & Misc. Spirits
Kahlúa 16.0%

£2.60

Disaronno 28.0%

£2.70

Cointreau 40.0%

£2.80

Chambord 16.5%

£3.10

Sambuca 38.0%

£3.00

St. Germain 30.0%

£3.20

Campari 25.0%

£2.80

Licor 43 31.0%

£3.00

Malibu 21.0%

£2.70

Aperol 50ml11.0%

£3.70

Pimms 50ml20.0%

£3.70

Baileys 50ml17.0%

£3.60
Alcohol-Free
Sipsmith Free Glider 25ml

Gin

£3.00

Peroni Libera 330ml

Lager

£3.50

Doom Bar 500ml

Ale

£3.60

Nozeco 125ml

Prosecco

£4.50

Rekorderlig 500ml

Cider

£4.00

Strawberry & Lime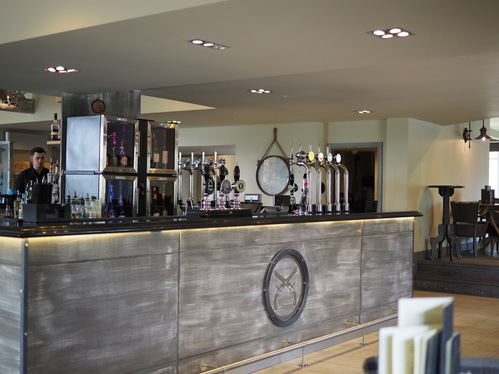 Soft Drinks
Coca Cola

Bottle, 330ml

£3.00

Classic, Diet, Zero

Still Water

Bottle, 330ml

£2.00

Still Water

Bottle, 1 litre

£3.50

Sparkling Water

Bottle, 330ml

£2.00

Sparkling Water

Bottle, 1 litre

£3.50

J2O

Bottle, 275ml

£3.00

Apple & Mango, Apple & Raspberry, Orange & Passionfruit

Red Bull

Can, 330ml

£2.90

Appletiser

Bottle, 275ml

£3.00

Fanta

Bottle, 330ml

£3.00

Pepsi Max

Half Pint / Pint

£2.00 / £3.00

R Whites Lemonade

Half Pint / Pint

£2.00 / £3.00

Fruit Juice

Half Pint / Pint

£2.00 / £3.00

Apple, Cranberry, Orange, Pineapple, Tomato

Cordial

Half Pint / Pint

£1.00 / £2.00

Blackcurrant, Elderflower, Lime, Orange