Wine List
Our entire team of staff welcome you to Turpins Bar & Grill.
All our wines have been carefully selected by our local wine importer to provide you with an excellent range in terms of quality and value.
If you require any assistance in choosing a wine, our team are always on hand to offer friendly advice and assistance. Cheers.
Highwayman Whites
Crisp & Refreshing
Chenin Blanc, False Bay

13.5% South Africa

A Chenin with broad appeal displaying classic baked apple and zippy citrus aromas with soft delicate apple fruit on the palate well balanced by crisp acidity.

175ml £5.90
250ml £7.20
Bottle £21.50

Pinot Grigio, Mirabello

12% Italy

A fresh, dry white with gentle floral and citrus aromas. Crisp and delicate on the palate with lightly honeyed fruit balanced by lemony acidity, some minerality and a fresh, dry finish.

175ml £5.90
250ml £7.20
Bottle £21.50
Pure & Refined
The Last Stand Chardonnay

12.5% Australia

Ripe white peaches and mango on the nose with elegant flavours on the palate. There's no oak, so whilst tasting full and round it is beautifully poised and wellbalanced. This wine really does 'stand and deliver!'.

175ml £6.20
250ml £8.20
Bottle £24.50

Picopoul dePinet, L'Ormarine', Languedoc

13% France

Nicknamed 'La Bomba' for such an incredible fruit and zest. Exuberantly fresh on the palate with ripe mango fruit a slightly saline edge and underlying minerality. Fine and elegant with a very long finish.

175ml £6.20
250ml £8.20
Bottle £24.50
Intense & Full Flavoured
Sauvignon Blanc, The Cloud Factory, Marlborough

13.5% New Zealand

Intense aroma of pink grapefruit and blackcurrants. Quite rich in the mouth offering more body than most Marlborough Sauvignons.

175ml £6.50
250ml £8.50
Bottle £25.50

Gavi, Alasia

12.5% Italy

A fine and pure expression of Gavi with pretty aromas of flora, citrus and green apple. The palate has apple and lemon characters, and an appealing weight and minerality. The finish is textural, long and defined.

175ml £6.70
250ml £8.70
Bottle £26.00
Stand & Deliver Reds
Ripe & Juicy
Barbera, Fazzoletto 'Passito'

14% Italy

A fresh, vibrant and juicy red with aromas of sweet ripe plums and cherries. Delicious fruit forwards characters of cherry and wild plum and the ripe rounded finish are balanced by fresh bramble acidity.

175ml £6.70
250ml £8.70
Bottle £26.00

Cabernet Sauvignon, Bellefontaine

13% France

Deliciously ripe with flavours of prunes, violets with a touch of fruitcake. The tannins are smooth and supple and the finish is fresh and characterful. Great value red reflecting well the skill of this Domaine.

175ml £6.20
250ml £8.20
Bottle £24.50
Warm & Complex
The Last Stand Shiraz

14% Australia

Premium quality fruit and mature vines have produced a wine with great balance, length and fruit intensity. This attractively fruity Shiraz has concentrated mulberry and soft plummy fruit flavours and smooth savoury tannins. Warm, soft and lusciously lush this is silky smooth with a velvety finish. This wine really does 'stand and deliver!'.

175ml £6.20
250ml £8.20
Bottle £24.50

Malbec, Rare Vineyards

13% France

Malbec's true home is in Southwest France, which is where this wine is produced. Rare Vineyards Malbec is a rich, velvety, overtly fruity wine that has violet aromas and some spice on the palate.

175ml £6.70
250ml £8.70
Bottle £26.00
Elegant & Fruity
Merlot, Sierra Grande

13% Chile

Deliciously ripe with flavours of prunes, violets with a touch of fruitcake. The tannins are smooth and supple and the finish is fresh and characterful. Great value red reflecting well the skill of this Domaine.

175ml £5.90
250ml £7.20
Bottle £21.50

Rioja, Vega Escena

14% Spain

An attractive modern style of Rioja with perfectly integrated and expressive plum and juicy black fruit aromas. Medium bodied on the palate, with red and black fruits, vanilla and spice, building to a savory white pepper finish.

175ml £5.90
250ml £7.20
Bottle £21.50
Dick Tur-pinks
Pinot Grigio Rosé, Ancora

12% Italy

Lightly tinted Pinot Grigio with a touch of Pinot Noir – from the Pavia region south of Milan. A dry, fresh and fruity rosé with delicate aromas of red berries. Soft and creamy textured with good intensity of ripe berry and red cherry fruit, and a vibrant finish. Such an easy-drinking wine that goes well with most light dishes.

175ml £5.90
250ml £7.20
Bottle £21.50

Zinfandel Rosé, Wild Wood

10.5% California

A major crowd pleaser from the Sunshine State! Luscious strawberry ice cream on the nose supported by a bright, berry fruited palate with candied sweets and tinned strawberries resulting in an off-dry finish. Served well-chilled and guaranteed to chill you out!

175ml £5.90
250ml £7.20
Bottle £21.50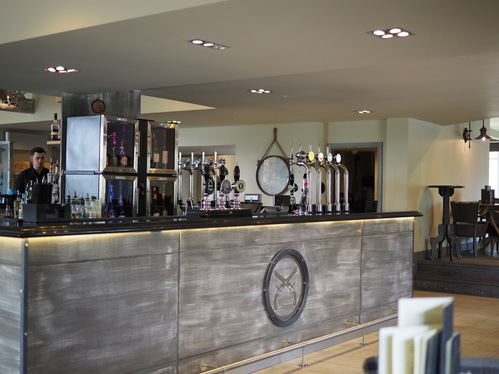 Bubbles at Turpins
Champagne Laurent Perrier Brut

12% France

Clear and bright, with a pale golden hue. A steady stream of very fine bubbles feed into a lively and persistent mousse.

125ml £9.50
Bottle £60.00

Champagne, Veuve Clicquot Brut

12% France

A superb marriage of freshness and power, with rich fruit and a mouth-filling effervescence.

Bottle £65.00

Champagne Laurent-Perrier Rosé

12% France

Sophisticated and stylish strawberry fruit, full of vivacity and easy-drinking charm. A wonderfully refreshing apéritif, it also works well with a variety of dishes.

Bottle £90.00

Prosecco Le Dolci Colline Spumante

12% Italy

A light and creamy Prosecco simply stunning with or without food. Pale green with lemon hues with hints of apple and peach on the nose. This award winning Prosecco is delicious

125ml £6.50
Bottle £27.00
Secret Cellar Wines
Chablis Vieilles Vignes 'Old Vines', Domaine de la Motte

12.5% France

Low-yeilding old vines now approaching a minimum of 50 years reveal themselves in a concentrated rich style with wonderful aromas of delicate flint and baked apple.

Bottle £45.00

Sancerre 'Terres Blanches', Domaine Roblin

13% France

Vibrant aromas of green apple and citrus. The palate is complex with ripe citrus and pear fruit, pithy grapefruit notes and an applealing stony edge to the long finish,

Bottle £50.00

Chateau Milon, Sain Emilion Grand Cru

15% France

Ripe and very appealing with lovely velvety structure and concentrated fruit with notes of damsons, bramble and blackberry. Nicely balanced with good concentration and depth which carries through to the long finish.

Bottle £50.00

Amarone della Valpolicella Classico 'Satinato'

15% Italy

Acessible and delicious example of a modern style Amarone in distinctive black frosted bottle. Hints of coffee and chocolate on the nose with ripe crushed berry, bitter cherry and sweet plummy fruit on the palate backed by notes of figs and dark chocolate.

Bottle £55.00